Gliding into History by Andrew Cohen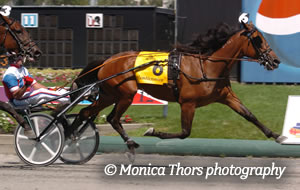 Passionate Glide winning the Hambletonian Oaks 2006
When we last left Passionate Glide, the once-in-a-lifetime trotting filly, she was coming off a sleepy and peaceful winter and zooming her way through a qualifying race on her way toward what promised to be a dramatic and successful three-year-old racing season. She hasn't stopped running and winning since. Seven times to the post. Seven times home a winner in 2006. She's won easy. She's won hard. She's won sound. She's won hurt. She's won fast. She's won slow. She's won from the front and she's won from behind. In her last race, the prestigious Hambletonian Oaks, one commentator even suggested that she intimidated the rest of the field into letting her coast through a slow middle half of the race, which of course she ultimately won despite a problem with one of her hind legs.
There are some horses who transcend the sport; who win when they aren't supposed to; who convince racing fans that there is more to harness racing that speed alone. Passionate Glide is one of those horses. And it is not just because she is the start of "The Heart of Harness Racing," a new DVD produced in 2006 chronicling, among other things, P-Glide's training regime. P-Glide now looms larger than life because she is that rare sort of individual who keeps exceeding the expectations that others have for her. This is a horse, remember, who just beat her best and toughest competitors in the world on three legs in the Oaks. She is Kirk Gibson of the Dodgers in the 1988 World Series, Willis Reed of the Knicks in the deciding game of the 1970 NBA championship, Mia Hamm and Brandi Chastain winning the World Cup of women's soccer;
First up for P-Glide after her qualifiers was a New Jersey Sire Stakes trot in early June which she used as a 1:56.2 tune up. Then, in mid-June, she won another New Jersey Sire Stakes leg in 1:54.4 and then coasted to a 1:52.4 victory in the 175,000 Final of the NJSS event, beating rivals Queen Serene and Simple Task by more than a little. In July, P-Glide focused upon the Delvin Miller Memorial, winning both the elimination race in 1:54.2 and then the $375,000 Final in 1:52.4. And then it was on to the Hambletonian Oaks elimination, which she won in a tepid 1:56.2 (she was already a little hurt by then) before rambling home in the $750,000 Final on Hambletonian Day. She is seven-for-seven this year and has an eight-race winning streak overall. Not bad for a home-grown young lady who never went to sale.
Owned and bred by George Segal's Brittany Farms of Versailles, Kentucky, and trained by Jimmy Takter, Passionate Glide has 12 wins and five seconds in 18 lifetime starts. She's made over $1.35 million. Last year, she earned $638,947 and was the 2-year-old trotting filly of the year, winning the Dan Patch Award. This year, she's already earned more and is a shoo-in to win the award again for 3-year-old trotting fillies. Next year, if she races, she'll be a shoo-in for the award for trotting mares. And then when she is done beating the other horses, breeders will fall all over themselves trying to arrange a match between their sires and her. She's already done enough, before the end of her second season of racing and before she has even reached 20 starts, to secure a place among the all-time greats in standardbred history. And she's a movie star to boot!
For more info from Andrew Cohen, click here