Real Desire documentary selected as
Film festival finalist!

Click here for more info
Newspaper clippings
Click here for press releases
Click here to see all the finalists
Review in the Dutch Trotting magazine "Draf en Rensport Magazine"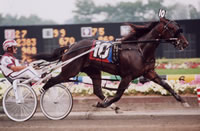 Thank you for your interest in Harness Dreams, the story of Real Desire's incredible career and The Burgess Family's success with training and racing him. We hope the program has kindled an interest in how you can get involved in this exciting and fulfilling sport. There are many opportunities available and a number of avenues you can take to get started. Whether you're considering owning a horse, breeding, driving in a harness race, or simply adopting a horse to love as your own, the resources here will lead you to the organizations to contact for further information.
Click here to purchase a copy of this DVD
For further information about Harness Dreams, Standardbreds, or harness racing, please contact either:
Monica Thors
609-933-1689
monicathors@comcast.net
or
Amy Krause
609-433-8326
amy.krause@verizon.net

Submenu:
" About Harness Dreams
" About Real Desire
" Show Times
" Get A Copy Of The Show
" Standardbred Resources
" Press Release
" Links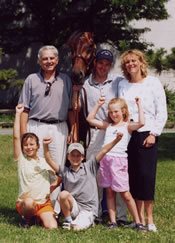 Harness Dreams presents the story of Real Desire, a record-setting horse who performed well beyond the expectations of his owners and trainers. Blair and Karin Burgess, who purchased and trained Real Desire, were able to fulfill a life-long dream of their own through Real Desire's prowess on the track. They purchased their own farm and turned it into a private training stable where they could live out their dream with horses. The Burgesses are still enjoying the fruits of their labor today, and continue to train winning horses, such as Amigo Hall. The special also gives an overview of the challenges and excitement inherent to harness racing, and includes interviews from some of the industry's top names-including John Campbell, one of Real Desire's drivers, and George Segal, the owner of Brittany Farms.
Real Desire's success may not be typical of all horses in harness racing, but stands as a stunning example of how hard work and dedication-and a little luck can come together on the racetrack to produce a multimillion-dollar winner.
Click the links above for show times or to find out how you can get involved with Standardbreds and harness racing.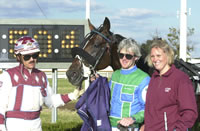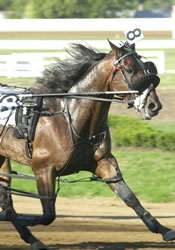 Real Desire is a horse who came from humble beginnings but became one of the top-winning pacers in history. Real Desire earned millions before retiring to stud, and was ultimately named Pacer of the Year and Horse of the Year in 2002.

Real Desire began his racing career winning 8 of 10 starts at 2, establishing a world record of 1:50.4 and earning nearly a half-million dollars. He captured the $1,000,000 Meadowlands Pace, Breeders Crown and Hoosier Cup at 3, earning over $1.6-million that season, and capped his brilliant career as a 4-year-old with another Breeders Crown triumph and other FFA wins that ultimately led to "Horse of the Year" honors. He was the fastest pacer of the year in his 4-year-old season (1:48.2) and retired to stud with career earnings of over $3.1-million, at the time ranking him the third-richest pacer in history.
SHOW TIMES

Harness Dreams is premiering on RFD-TV, available through satellite television

Thursday, March 31 at 4 p.m. and 10 p.m. EST
Friday April 1 at 4 a.m. and 10 a.m. EST
Sunday April 3 at 5:30 p.m. EST

The show is carried on Dish Network channel 9409 and DirecTV channel 379.
GET A COPY OF THE SHOW
To receive a DVD copy of the show, please contact Monica Thors at 609-933-1689, or send an e-mail to monicathors@comcast.net
The US Trotting Association
The governing organization of harness racing. Many resources are available from their website.
750 Michigan Avenue
Columbus, OH 43215
877-800-8782
www.ustrotting.com
For statistics: x87
or write stats@ustrotting.com
For prospective owner seminars
Ellen Harvey
732-780-3700
hrcnews@ustrotting.com
www.ustrotting.com/misc/ownership/Owners%20Main%20Web%20Page.cfm
Standardbred Equine Program
Promotes alternative careers for Standardbreds - riding, driving, showing, trails, and other. Large component for youth program to promote Standardbreds to kids.
877-800-8782 x 3260
sep@ustrotting.com
www.ustrotting.com/sep/sep.cfm
Brittany Farms
Where Real Desire was born, and where he is currently at stud.
P.O. Box 518
Versailles, KY 40383
Art Zubrod, Farm Manager
859-873-3878
Contact for information about breeding, foaling, race horses, stallion syndication, yearling preparation, pedigree research, or consultation.
www.britstud.com - for stallion management
Standardbred Retirement Foundation
To adopt a Standardbred. This organization has been operating for 16 years and follows each horse throughout its life.
49 East Main Street
P. O. Box 763
Freehold N.J. 07728
Tel:(732) 462-8773
George Brodey
gsbrodey@srfmail.com
www.adoptahorse.org
Harness Racing Museum and Hall of Fame
Dedicated to comprehensive, active and authoritative support and promotion of the Standardbred industry through documentation and preservation of the history and traditions of this American-born sport.
P. O. Box 590
240 Main Street
Goshen, NY 10924
845-294-6330
www.harnessmuseum.com
hrm@frontiernet.net
The Delvin Miller Amateur Drivers Association
Standardbred Driving Club
845-294-6330
Visit the web site for more information and also to see other Standardbred driving clubs throughout the United States.

The Harness Horse Youth Foundation
Provides young people information and experiences with harness horses
16575 Carey Road
Westfield, IN 46074
317-867-5877
hhyfetaylor@iquest.net
Mar 14: Harness Racing Special to debut on RFD-TV
Aug 11: "Harness Dreams" Documentary Selected Finalist in Prestigious Film Festival
Oct 10: Real Desire Documentary To Be Rebroadcast on Satellite TV
RFD-TV - "Rural America's Most Important Network"
www.rfd-tv.com
For quality music from the excellent online music library company
Shockwave-Sound.com

Harness Dreams Was Made Possible By:
The Harness Racing Museum and Hall of Fame
www.harnessmuseum.com
Brittany Farms, Lexington Kentucky
www.britstud.com