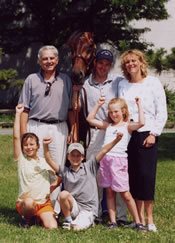 Harness Dreams presents the story of Real Desire, a record-setting horse who performed well beyond the expectations of his owners and trainers. Blair and Karin Burgess, who purchased and trained Real Desire, were able to fulfill a life-long dream of their own through Real Desire's prowess on the track. They purchased their own farm and turned it into a private training stable where they could live out their dream with horses. The Burgesses are still enjoying the fruits of their labor today, and continue to train winning horses, such as Amigo Hall. The special also gives an overview of the challenges and excitement inherent to harness racing, and includes interviews from some of the industry's top names-including John Campbell, one of Real Desire's drivers, and George Segal, the owner of Brittany Farms.
Click here for more information about the documentary
---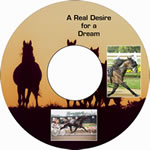 ---
---

DVD
Harness Dreams DVD, incl. shipment in the United States


$24.99

DVD
Harness Dreams DVD, incl. shipment to Canada or Mexico


$27.99

DVD
Harness Dreams DVD, incl. shipment to the rest of the world


$31.99
---
Payment for the DVD can be made through PayPal via the shopping cart above.
Payment can also be made by cheque or money order payable to:
Monica Thors
78 Ferrell Road
Mullica Hill, NJ 08062

please add 7% for New Jersey sales tax.


Thank you!


Monica